Why play mobile Poker?
There's a lot of casino games out there for you to choose from and if you're the type of player who prefers the game of poker then we've got just the thing for you…mobile poker! There's a whole lot of benefits that come from playing mobile poker than is exclusive only to mobile poker players which makes it a must have variant for any avid poker player. To play mobile poker all you need to do is sign up to a mobile casino site such as Cool Play Casino and you'll be opened up to a new world of poker games you never knew existed.

Mobile Poker perks
The first perk you get from deciding to play mobile poker is there are are a bunch of mobile casino exclusive bonuses that you can use to play in the poker games. These include a bunch of free casiDeposit Bonus bonuses too where you'll receive a couple of quid if not more to try out the various games in order to learn the ropes before depositing any of your own money. You can even walk away with money in your pocket with this type of bonus so it's a win all round in our books!
The second perk that comes from playing in the mobile poker games is you get to be the boss and decide where and when it is you'll be playing. With a land based casino you have to spend all that time travelling and then you have to play the games in the building, with an online casino it gets better but you're still restricted to your home, however with a mobile casino you can literally play anywhere in the world you have an internet connection so your opportunities become endless. This isn't just a time saver but the fact you can play mobile poker any time you have a 5 or 10 minute downtime means you'll never have to find yourself bored again!

Mobile Poker is no different than the online Poker
Mobile poker works in the same way than online poker does except you'll be playing through your phone instead of the pc.
The games you have a choice from are all the same too they've just been slightly modified in order to make them touchscreen friendly and fit the smaller screens a bit better as well. You'll still have a fantastic range of poker games to choose from that will go beyond just the classic game you're used to playing so you'll be able to keep things fresher for longer when you choose to play mobile poker.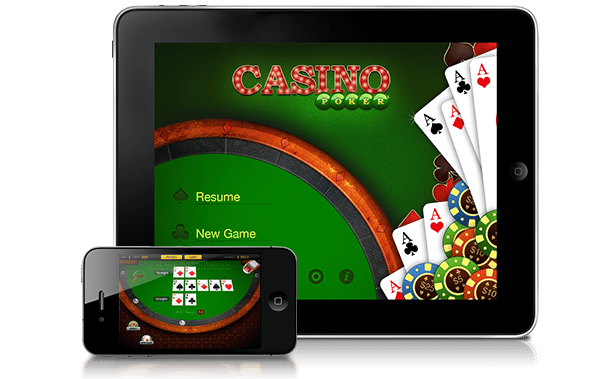 All in all we have nothing but great things to say about mobile poker and the best part about it all is you don't have to stick to one medium of gaming exclusively. When you're in your home you can still play it at Cool Play Casino from the pc and when you're out and about you can simply whip out your phone and load up Cool Play Casino's mobile platform to start playing mobile poker whenever the mood takes you there as well!